About Us
A company that promises quality in every offered industrial chemical & acid is
Triangulum Chemicals Private Limited
. We are situated in the prime location of
Vadodara (Gujarat, India)
. From this location, we function responsibly as a
manufacturer
and
wholesaler
. Responsibilities that come along with aforesaid nature of businesses are performed with extreme perfection in order to get long-term loyalty of a wide client-base.
Till date, our company has successfully met requirements pertaining to
Boric Acid Powder,Oxalic Acid Powder,boric acid,Chromic Acid,Acetic Acid Solution,Nitric Acid Solution,Barium Carbonate
etc., and we assure to continue doing so in future by bettering processing, sourcing and quality testing techniques.
Quality is a major factor, upon which every employee pays maximum focus during production, testing, packaging and shipment. Zero amount of carelessness is found in the execution of aforesaid operations as team applies stringent quality control policy. As per the guidelines of this policy, all business operations are performed to eradicate possibilities of flaws in our range.
Quality Testing
We are proud to boast about having an in-house testing laboratory, which is equipped with right quality chemical testing equipment that plays major role in examining composition, effectiveness and quality of acids and chemicals. To perform chemical analysis process, we have employed the best scientific experts who ensure to give 100% positive testing results. Quality rules our every offering because our major aim is to generate value against hard-earned money. Hence, we adhere to international quality norms for making customers have simply the best quality acids and chemicals.
How Are We Planning To Win Competition?
By ensuring qualitative, quantitative and cost-effective manufacturing of acids and chemicals.
By maintaining high strictness during preparation of offered line so that not a single trace of error is found.
By increasing our talented team with employment of experienced, qualified and value-driven professionals.
By speeding up manufacturing process in order to meet growing demands of Sodium Nitrate Powders, Phosphoric Acid Solutions, etc.
Our Mission
We aim at growth, success and high market reputation. All the aforesaid are constant partners of those companies, which work hard and keep customers' priorities on top. We, understand this well and put across our best efforts to make customers happy by giving high attention to their special requirements regarding production formation.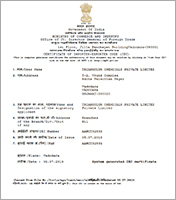 Read More